Fairy Tale Themed Murder Mystery
Once Upon a Murder – Large group script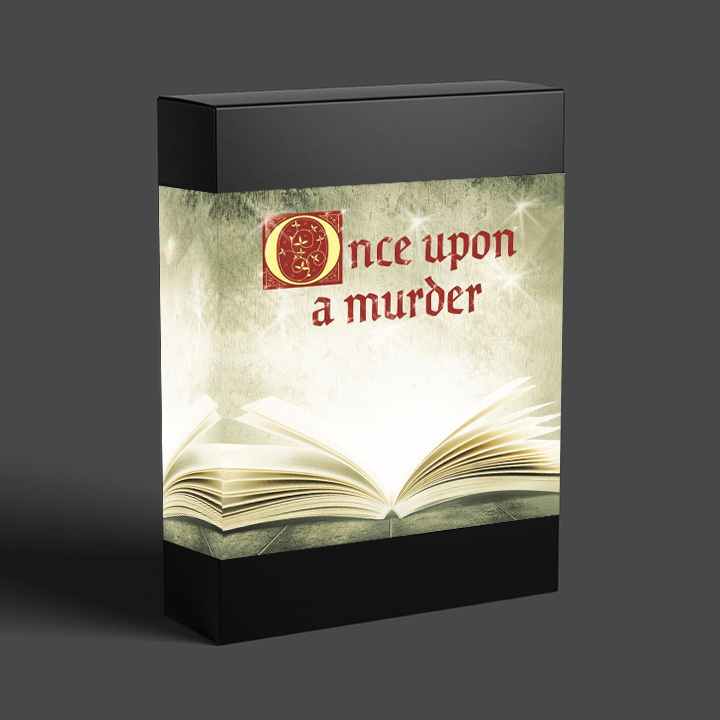 Humpty Dumpty sat on a wall, Humpty Dumpty had a great fall… but no!
Humpty didn't fall.  He was pushed!
Which of these familiar fairy tale and nursery rhyme characters is the perpetrator?  Can you solve this scrambled case?
Large Group Murder Mystery Game
Once Upon a Murder – Large group script
Not for profit discount
If you are running this for friends or family, fundraising or not for profit.
You can save 65% – just register for a special code.
How do these games kits work?
These games require 7-13 cast and involve the rest of the audience by getting them to ask pre-set questions – which are provided to them on paper by the inspector at the start of each round.
They run in a similar way to a dinner party, so are an ideal first choice for novice hosts and acing teams with little or no experience running large scale events.
These games work best as a sit down event with 6-12 tables of guests, with a suspect on each table.
As a rough guide these mysteries take approximately 2-3 hours to complete with a three course meal.
During the game the audience will listen to five short sets of dialogue from the cast and pose pre-scripted questions (which the cast answer with pre-scripted answers). There are three rounds which can be evenly spread throughout the night or, if preferred, the question and answer rounds can be bunched together into one large round.
At the end of the final round the guests are given time to decide who is the murderer, and once the guests have decided who did it, how and why (i.e. the murderer and motive) they will complete the answer sheet and hand it in.
How these games usually run.
Introductory Round: Introductions by the cast and the facilitator "inspector character".
Rounds 1, 2 and 3: Scripted dialogue from the cast, followed by pre-set questions and answers.
Concluding Statements and solution: conclusions by the cast and denouement from the inspector.
There is one "inspector character" who acts as a facilitator during the event and is essential to the cast.
Reducing the cast size will reduce the length of time required to solve the mystery.
Essential Cast
9 Cast Members
11 Cast Members
13 Cast Members
Essential Cast
The inspector can be played by a male or female person but is essential to make the game format work.  We suggest you cast your primary "Organizer" in this role.  Or have the most organised as a supporting role to the inspector to keep the game moving along and hand out information at the right time.
Inspector C. A. Taper – The Detective responsible for solving the crime
Efficient in their own peculiar way,  Inspector C. A. Taper has an unusual method of solving crimes – they involve everyone!
The Suspects:
Old King Cole – the monarch.
Complete with crown and a chain of office draped over a traditional fairy tale ensemble, Old King Cole is a merry old soul, but that jolly demeanour could just be an act.
Dread Pirate – the pirate.
This masked pirate is a recent newcomer to Happily Ever After.
Jack – the beanstalk climber.
Strong, brave and true, Jack is dressed for his next climb and carries a pouch holding his magic beans.
Alice – the investigative journalist.
With a crumpled trenchcoat over her blue dress, Alice is a reporter determined to satisfy her curiosity.
Queen Grimhilde (QG) – the business executive.
The CEO and owner of Fairest of Them All Cosmetics, this former wicked queen is dressed in a sharp business suit.
Blind Mouse – the runner.
Even though this furry creature wears dark glasses, they can run circles around most people.
9 Cast Members
11 Cast Members
13 Cast Members
This game can be customised to fit your event for an additional fee.
It's hard to give "ball park" figures for what different customisations would cost however we've attempted to HERE.
Please do contact us for a free quote if you would like any customisations on your game before purchase.
Remember… if you just need 1 extra person, or 1 less person, why not have someone play the inspector role?
The inspector can usually be male or female as the "for real" inspector can simply invent a new name for themselves.
Some hosts prefer to play the inspector role as it means they can work on the catering while the round plays out amongst their guests.